Intensive learning  and preparation for Cambridge B2 and C1 English exams
Available in Legazpi and Aranjuez – July 2023
Book now! Limited places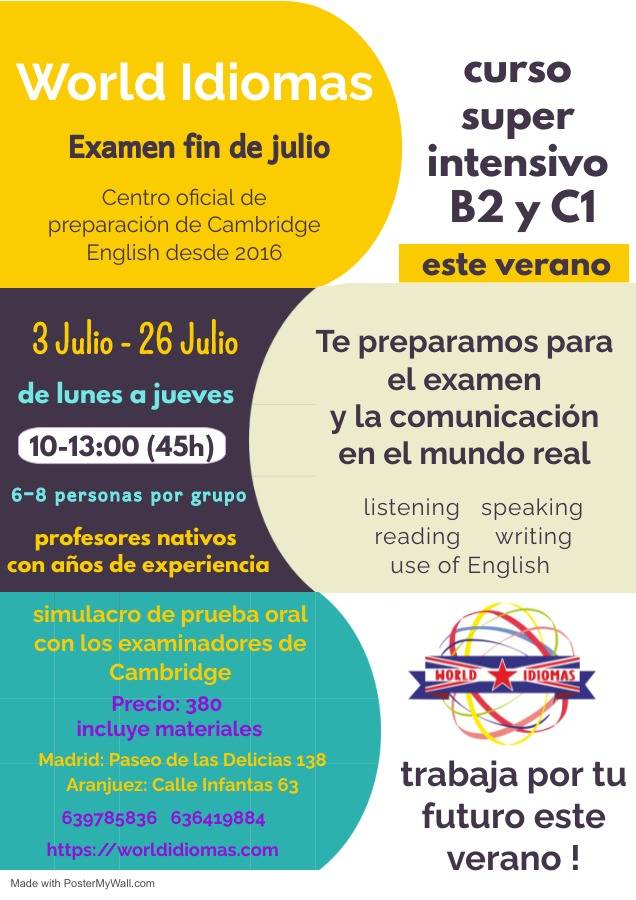 Get ahead with your B2 or C1 English
Intensive summer courses Aranjuez and Legazpi – Cambridge English B2 (FCE – First Certificate) and C1 (CAE – Advanced)
Exams can be booked for 27/28/29 July (Deadline June 20) or for other sessions. (Extra fees apply)
Experienced degree qualified native English teachers.
3h per day Monday to Thursday (10:00h-13:00h) between Monday July 3 and Wednesday July 26. Approx 2.5 hours of lessons and 30 minutes exam practice – total 45 contact hours. Plus optional but recommended homework (writings and other exercises).
Price 380€ (full non refundable payment required before start of course)
Practice and improve all tested areas Writing, Speaking, Listening, and Reading and Use of English. In addition build confidence in your real-world English communication skills.
Our focus is direct method teaching with continual group interaction involving real-time correction of garammatical and pronunciation errors. Sample writings are provided and student writings are corrected to improve this skill area.
Enrol now – places limited – maximum 8 students per group. No late enrolments allowed to avoid disruption to the intensive group workflow.
*Subject to minimum enrolment of 6 students
Need help or keen to sign up
World Idiomas
Calle Infantas 63
28300 Aranjuez, Madrid
Paseo de las Delicias 138
28045 Legazpi, Madrid
info@worldidiomas.com